Welcome to the 2017-18 School Year!
Welcome to the Fort Saskatchewan Elementary School website.  Please check out all of the information on this home page to find out what's NEWS. 
Halloween is just around the corner.  Check out the information, below, to see what is happening at FSE!
Parent/Student/Teacher Conferences
We are looking forward to seeing parents at our conferences on October 25 and 26 from 4:30 - 7:20 pm. We will once again be using the on-line booking which opened October 9. Parents will need to go to https://www.schoolinterviews.ca and enter the code umhfg. The booking will close on October 24 @ 12:00. If you need help with booking, please contact the office @ 780-998-7771.
Here Comes Halloween!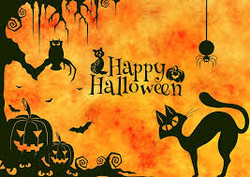 Halloween celebrations are just around the corner and we have many students with wonderful, creative ideas about what costumes to wear.
What's important to remember is costumes that portray stereotypes about a specific group, culture or race can be hurtful.  While we're confident our students wouldn't intentionally try to offend their classmates or teachers, we need to be sensitive to the fact that having one's background or identity depicted as a costume can be viewed as disrespectful. 
It is important that celebrations being held at our schools can be enjoyed by everyone—please help us ensure Halloween is fun for all of our students! If you have any questions about whether or not a costume would be appropriate, please contact Mrs. Sorochan or Mr. Gerwing to discuss.
On October 31 students will be able to change into their costumes at lunch time.  They are not to come to school in their costumes.  There will be an assembly at 1:20 where all the classes will parade around the gym to show off their costumes.  After the assembly the students will return to their classrooms to celebrate in their own way.  If you have any questions about the classroom activities, please contact your child's (ren's) teachers.
Hot Lunch Information and Order Form for November to January
Hot Lunch orders for Nov. - Jan. are now available online for all orders so as to ensure accuracy with the orders and to make the process as easy for everyone as possible.
Here's how to get started...
Click on "Click Here to Register"
Enter Access Code FSE
Complete the rest of the registration form. (Including your email address will ensure you receive reminder emails about hot lunch order deadlines, and your child's hot lunch order for the upcoming week)
Click the "Register Now" button at the bottom
Follow the instructions to add each child in your family who attends Fort Saskatchewan Elementary School
Once your child(ren) are registered, click on "Order" and proceed to order.
Hot Lunch order form
Get Involved in Your Parent Council!
Our first Parent Council and Parent Society meetinga will be on Thursday, November 23. The meetings start at 6:30 p.m. and usually run until 8 p.m. Please join us in the staff room for some information sharing, connecting with others and volunteer opportunities. We are still looking for a volunteer to step into the Vice-Chair position, for the Parent Council. We hope to see you on November 23rd.
Upcoming fundraisers..................Whoville Trees and Cookie Dough. More information will be coming home on November 1.
School Fees

Families are invoiced for school fees at the beginning of every school year. Fee are now available on PowerSchool and a copy was sent home September 20. Fees are due within 30-days of the invoice date. The simplest, and most convenient, way to pay schools fees is using ACORN by logging into the PowerSchool Parent Portal. If circumstances exist where you are unable to pay your students fees you can apply to have fees waived by submitting an Application for a Waiver of Fees.
For more information:
EIPS fees and waivers
Fort Saskatchewan Elementary fees and waivers
Student Transportation fees

All families using EIPS Student Transportation services for the 2017-18 school year should have already received a tentative route schedule. Those required to pay applicable transportation fees should have also received a separate invoice outlining payment information—we encourage parents to pay pay fees online.
If you haven't received a letter from Student Transportation yet, and would like to inquire about busing for your child, contact Student Transportation at 780-417-8151.
Look for bus passes and any updated route information in your mail in August.
Canadian Anti-Span Law
Ongoing communication with our families is important to us. Elk Island Public Schools uses SchoolConnects Synrevoice as one way of sharing information directly with our families by phone and email. Messages may include bus cancellations or delays, inclement weather, upcoming events, last-minute cancellations, parental engagement opportunities, emergency notices, and more.
In order to ensure that we continue to comply with federal anti-spam legislation, parents/guardians are required to subscribe in order to receive routine emails from schools and the Division.  Please note: Those who are not subscribed risk missing important information on activities and projects including school-based events, fundraising activities, musical or theatre productions, school photos, graduations, dances, etc. 
Regardless of whether you subscribe or not, you will continue to receive emergency messages, information about the online posting of school fees and, where applicable, high school student attendance notifications.
Subscribe or unsubscribe at any time to reflect your preferences.
2016-17 Yearbook
We have extra yearbooks left from 2016-17. If you would like to purchase one, they are $15.00. Please contact the school.
Check Out FSETV!!
Under the creative guidance of Mr. Gerwing, grade six students put on a News Show at least twice a month.  We invite you to watch and enjoy!
https://www.youtube.com/user/fsestv
Division News